We Can Help You Find The Perfect Tile
A large selection of products and design styles to choose from.
Tile is commonly used in bathrooms because most of it is moisture-resistant and is relatively low maintenance. Tile is also very popular because it comes in a variety of different materials, shapes, and colors. When picking out bathroom tile there are several things to consider.
It is important to make sure that the tile you pick for the shower is suited for high moisture areas. The material that the tile is made of has an impact on whether it absorbs water or not. Using a glazed tile will stop water absorption. You might want to consider more of a smooth tile for the shower walls. A rough-textured tile on the walls can make the tile hard to clean. When picking out a shower floor tile, you may consider purchasing a non-slip floor tile designed with a textured surface. 
When it is time to pick out your bathroom floor tile, before you start, take a good look at your bathroom. Do you want your bathroom light and bright or dark and bold? Is the bathroom large or does it have tight quarters? Depending on how you answer these questions will help you narrow down your options. If your bathroom is on the smaller side, you will want to use a smaller tile. Placing the tile in a diagonal pattern can give the illusion of a larger room. Using larger tiles will make the bathroom look smaller than it really is. If you're looking for a bathroom tile that doesn't require much maintenance, think porcelain or ceramic. Tiles made from natural stone require more upkeep since they are more porous. Try to avoid tile that becomes slippery when wet. For example, glass tile is pretty and it is great for accent pieces or great on the walls but is not ideal for floor installation. 
During the bathroom design process, it is common for homeowners to overlook the backsplash tile. Backsplash tile not only protects your walls from moisture but it is a chance for you to add a splash of color and creativity. When picking out your bathroom backsplash tile there are a few things to consider. Know your budget. Look at the size of your space and evaluate your options. Do not rush into a decision. You will be living with this backsplash for many years. 
At Western Floors, we strive to provide the best value, product, service, and installation for all of our customers. Our commitment to quality and integrity sets up apart from the competition. Whether you are in need of tile, laminate, or hardwood floors, Western Floors has you covered.
A Full Transformation
Below you will see a before and after picture of a custom shower job we did for a customer.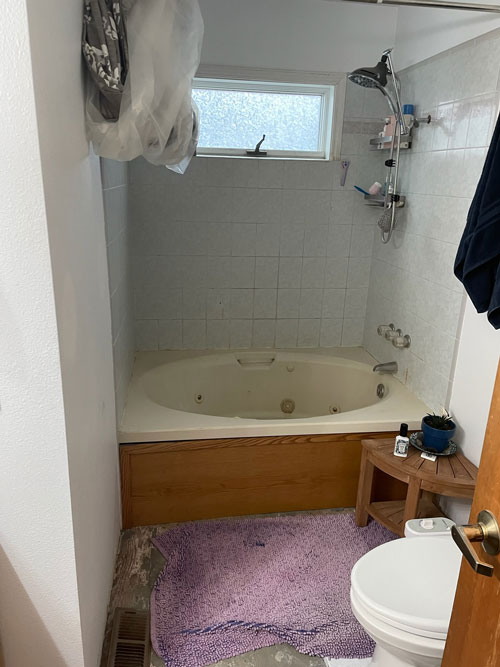 Come and Visit Our Showroom Today!
Western Floors has a stunning selection of products and design styles.